Investment real estate gets preferential tax treatment from the IRS -one that is not afforded to any other asset class. In a nutshell, if you hold real estate long term, you are allowed to deduct a "paper" expense called depreciation from an appreciating asset. It's yet another way that real estate makes you money by letting you keep more of it after it goes through the government strainer. But in speaking with many investors (aspiring or active) there seems to be this gross misconception that due to the ability to deduct depreciation, cashflows from investment real estate are tax free. So, today I wanted to dispel this mistaken notion and give you a clear idea on how investment real estate income is taxed.
You're pretty much allowed to keep two sets of books – legally. One is the actual cash inflow and outflow set. The other is the tax inflow and outflow set. So let's look at some numbers as an example: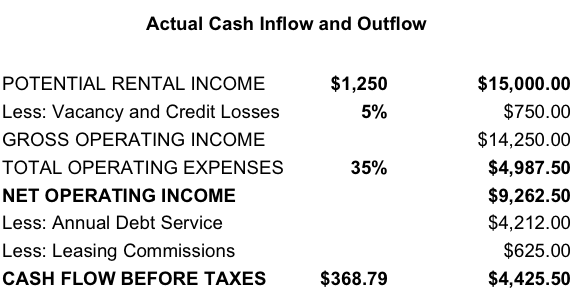 If these were the numbers on a different asset class and the investor was in the 30% tax bracket, they would owe $1327.65 in taxes making their after tax cashflow $3,097.85. But this is long term real estate, so here's what the inflow and "outflow" look like for tax purposes: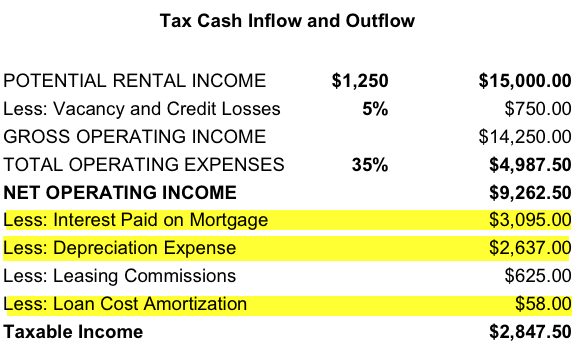 As you can see, for tax purposes, you are allowed to deduct just the interest portion of your mortgage payments as well as the depreciation expense, leasing commissions and loan cost amortization. This results in a much lower taxable income which in turn results in 36% lower taxes or $854.25. The depreciation expense that the IRS allows real estate investors to deduct shelters a portion of your cashflow from taxes. Put a different way, instead of paying taxes at your bracket rate of 30%. you're paying taxes at a 19.3% rate. I don't know about you but any steps closer to zero (my favorite tax rate) are fine with me.
So back to the misconception. Investors tend to look at their cashflow figure then at the depreciation expense which leads them to believe that most (or all) of their income will be sheltered from taxes. However you aren't allowed to deduct the portion of your debt service (mortgage payments) that goes towards principal and therein lies the rub. So it isn't tax free but tax favorable. Something most other assets classes can't claim.
John Morgan via Compfight