Today I want to start by making a statement that's as powerful as it is obvious. The critical foundation for any long term investment strategy is incoming rent. Without it, all projections fall apart, all returns vanish. Earth shattering, I know. But obvious as it is, is it any surprise that THE most frequently asked question I get from all real estate investors without exception is: How do I know that the property will rent quickly and stay rented? This question deserves an answer that's better than just encouragement: It deserves solid facts.
The experiment
So facts I went chasing to provide an answer that will show how the Houston rental market actually performed in 2011. I analyzed all rented properties that closed in 2011 that fit the property profile we recommend: Built after 2003, Minimum 3 bedroom 2 bath 2 car garage and at least 1600 SF zoned to the best school districts in the city for the money. The results themselves didn't stun me as I see them in action in my business every day. Their consistency across the board however, really did. Take a look for yourself: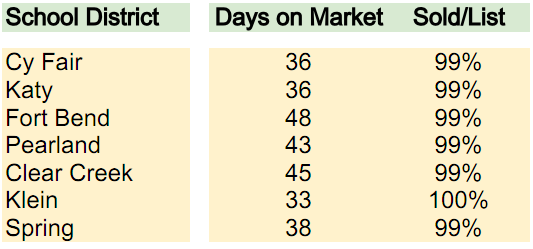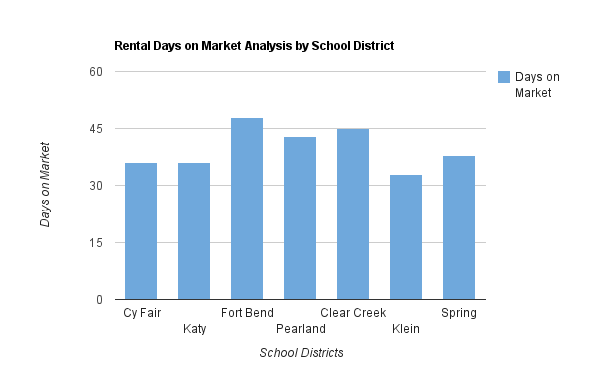 As you can see, the average time it took for properties in that category to get a tenant was between 33-48 days. When you consider that after closing on an investment property the first mortgage payment isn't for at least another 30 days that ought to put a smile on your face. And when you add to it that the average days on market for the properties we listed for lease in 2001 was 24 days, that's even more cause for comfort.
But days on market are just part of the puzzle. What if you're getting your properties rented out quickly but you're having to sacrifice large discounts off your asking price? That wouldn't be good. Well, the data shows that the average sold to list price in all the school districts we analyzed was 99%! To put that in perspective, if you had an investment property and were asking $1200/mo in rent, the average discount in 2011 was $12. In our business we price the properties right from the beginning and always get our asking price or higher.
The Answer to the most FAQ
So how do you know if the investment property you acquire will get and stay rented? First and foremost you must not forget that it's the right property that attracts the right tenants quickly. If your property selection is poor, getting the property rented and especially, keeping it rented will be more challenging. That's why we remind our clients that numbers often lie and high returns can cloud your better judgment. Although chasing cheap properties in inferior neighborhoods with seemingly great rates of return may seem like a good way to score a great deal, those returns vanish if your turnover rates and maintenance costs are high. So, select the right property in the right neighborhood and finding and keeping tenants will be the least of  your concerns. But you don't have to believe me. The market told you so.
Do you have a real estate investing Blueprint yet?